This course is for you who want to focus on yourself and develop even more as a dancer. No need to find a partner to practice with, just 100% focus on you and taking the time to improve all aspects of your dancing! 
In this course you will learn a number of steps and movements that we have prepared for you. Many of the steps come from the streets and neighbourhoods of Bonao, which is the city in Dominican Republic were Junior was born and a city which breathes bachata with its own unique style!
The course focuses on steps and footwork but you will also get a lot of advise about how to improve your body movement. One of the most important movements in bachata is of course the hip movement, so we will teach you all the different ways to move your hips, both together with all of our favourite steps and in turns. All of these fun combinations can of course be used in your social dancing!
As it in the Bonao style it's very important to do the steps in combination with movement and to adapt it to the music, that is also something we will focus on.
There is also a little surprise at the end of the course - a challenge! 
Our goal is that you after this course will be a more complete dancer who feel free and creative on the dance floor and ready to add that extra flavour to your social dancing! We are looking forward to seeing you dominate your footwork and bring a lot of sabor a pueblo to the dance floor!
VOCABULARY AND STRUCTURE


We have created our own pedagogy, vocabulary and techniques, all based on how bachata is danced in the Dominican Republic and in cooperation with the best and most respected local Dominican dancers. Here we list some of the names we have given to our favourite steps, which you will learn in this course:
El cojo
El suape
Punta doble
El acordeón 
El dibujo
Fui fua 
El requinto
Tiki diagonal
Sacaito doble
Footwork & Body Movement Course with Junior & Carolina contains 6 lessons with different themes - everything from the first basic steps and turns to body movement, musicality and a special challenge as an extra bonus.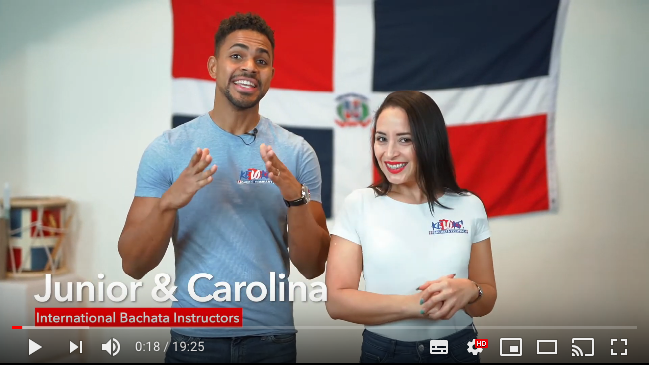 We are international artists, instructors, animators and event organizers who want to teach you all we know about bachata starting from the very basics until you have reached an advanced level.
Sign up for our classes and start dancing from you home today!
Check out some of our other courses