This course is for you who have never danced before but also for you who already know and have danced bachata for a while but want to try the traditional bachata for the first time or get even more into the basic techniques.
We will start with the most important part of all. No matter if you are a skilled dancer who have danced bachata for many years, or if you are completely new to the fantastic world of dance that you are entering into - basics are the key to build a foundation that gives you the possibility to grow, progress and fully understand all aspects of dancing bachata.
VOCABULARY AND STRUCTURE
We have created our own pedagogy, vocabulary and techniques, all based on how bachata is danced in the Dominican Republic and in cooperation with the best and most respected local Dominican dancers. The steps and figures we will teach in the Bachata Beginners level:
Basico in place
Basico Tumbao
Basico caminando
Basico Tradicional
Basico Decorado
Machucao
Tiki tiki
Punta talón
Bachata Beginners Course with Junior & Carolina contains 10 lessons with different themes - everything from the first basic steps to body movement and musicality.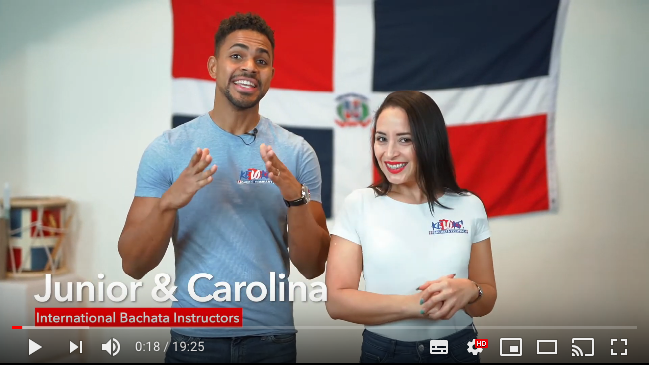 We are international artists, instructors, animators and event organizers who want to teach you all we know about bachata starting from the very basics until you have reached an advanced level.
Sign up for our classes and start dancing from you home today!